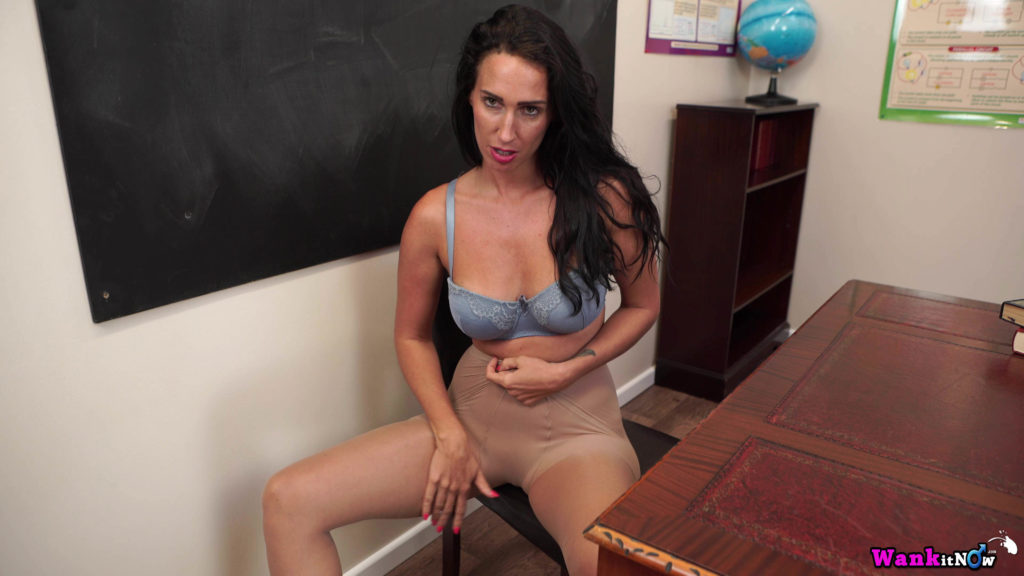 Your grades at school are total shit and it's not good for you or your Milf teacher Tammie Lee.. You need good grades and she needs to get her overall passes up or she's out of a job. She's really pissed off  and there's only one thing that puts a smile on Miss Lee's face and that's one of her fittest students wanking their cock over her Milf pussy. She loves seeing young men standing in front of her with t heir trousers pulled down to their knees and them wanking furiously at their erect cock.
You're the last student she's seeing today and she has a deal for you. But, how far are you willing to go to get your grades up? This kinky Milf wants to finger her pussy while watching you wank your cock but you need to be careful not to cum to soon. Miss likes to take her time and hates when lads cum prematurely. Miss Lee only took off her skirt and the site of her sexy tights all ready go you stonking hard and it didn't go unnoticed.
Video from: Wank It Now
Miss Lee isn't wearing any panties under her tights, you can't believe how dirty your teacher is and what she's having you do but you can't help but go a long with it. Truth is you've been wanking over your teacher from Day 1. She puts her feet on the desk  and slides her hand in to her tights fingering her pussy. You can hear the squelch of her wet pussy and you can smell the scent of cunt in the air and your cock feels like it wants to explode but you dare not cum yet.
You tell your teacher that you want to cum so badly. Miss rips off her holes so she has better access to her Milf cunt but the sight off her pussy is too much and you start spunking up all over the place, you cum so hard that it lads on your teachers tummy from 3 feet away. She looks at you with disgust but continues to thrash away at her wet hole. Her body tightens up and her ass pumps as she starts to orgasm and cums all on her fingers.
Gallery from: Wank It Now