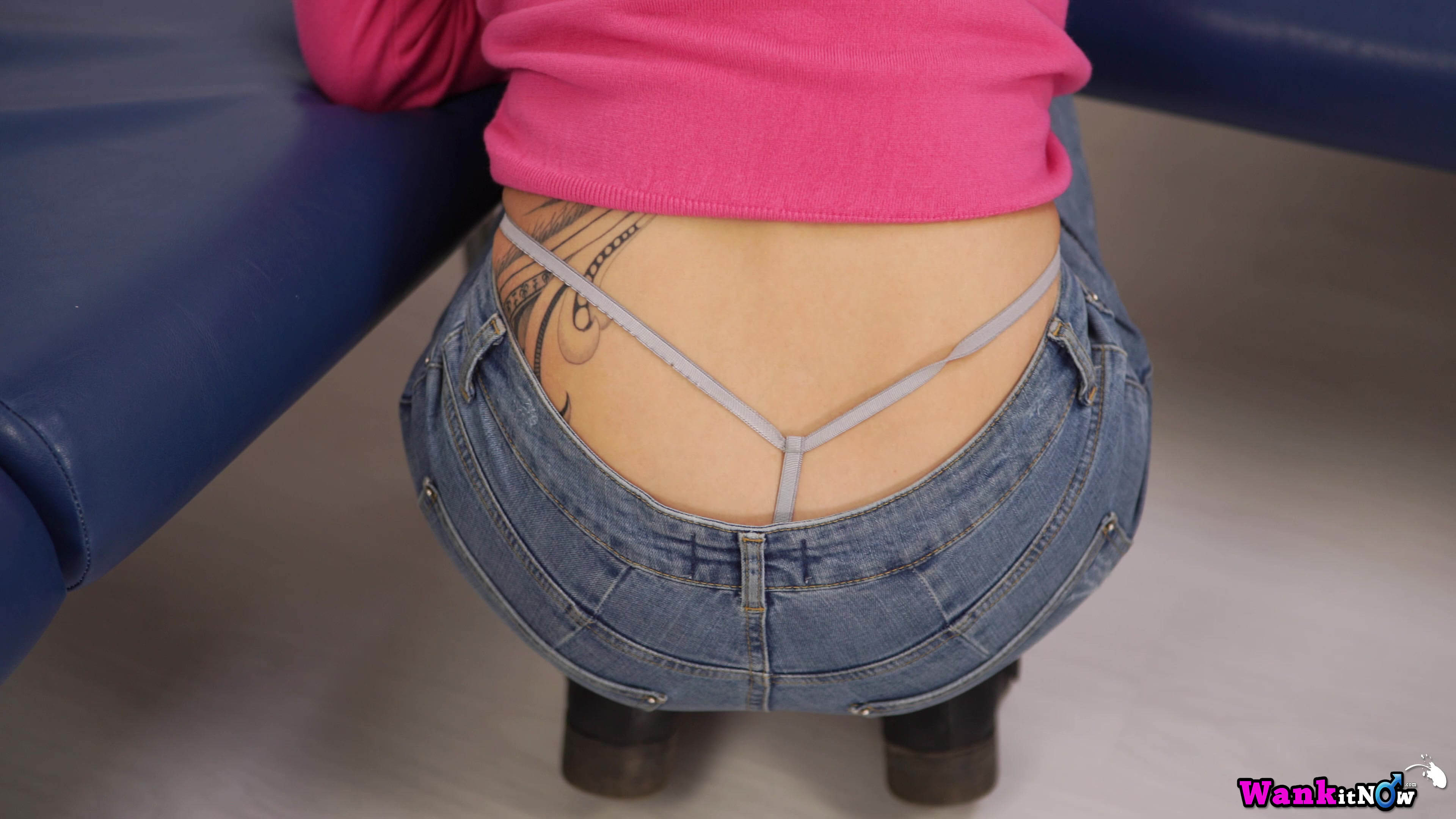 Laura is  a gorgeous, leggy babe who's just came walking in to the waiting room wearing some ass hugging jeans but it's when she goes to get a magazine off the coffee table that things go a bit awry. You see you have a thong fetish and when you see Laura bend over the table you can see her thong and  you get an instant boner. You're not shy and you let her know how pretty her thong looks. She does say that you shouldn't be looking but you can tell she likes the attention.
Video from: Wank It Now
Laura gets so bored in the waiting room and the thought of your hard cock is making her pussy twitch so she decides to have a bit of fun. She tugs down her jeans so you can have a dirty wank over her thong. She's desperate to see you cum, in fact she has a thing for male ejaculation and is obsessed with the male hard-on. So seeing you jerk off over her thong is going to make her day.
As you sit there wanking your hard cock, Laura looks right in to your eyes. She slips her thong down and pulls it back up again, pulling it right in to her crotch. As she does, all as you can think about is the scent of her pussy on her thong, you want her to take it off and pass it to you so you can have a good sniff of her cunt. When Laura asks if she should take them off and maybe you can sniff them you can't believe your luck. She takes off her panties and throws then to you " go on then, sniff my dirty knickers, I've had them on all day". You pick them up with your left hand, still stroking your cock with your right and hold them near your nose and straight away you pick up that musty scent of moist cunt. Instantly you start cumming. You hold the tip of your cock and carefully cum on little thong and then clean your top with it. She can't beleive what you just done. But, you thrown them back to her. She lets out a laugh as she catches them and gives them a sly quick sniff before putting the cu filled panties in her handbag.
Gallery from: Wank It Now